Open Group award to -IFMS team, NIC Kerala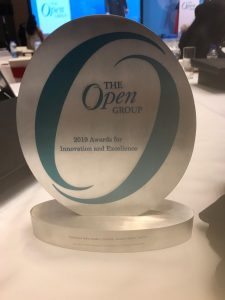 The President's Award for 'Architecture enabled Government Transformation' by the Open Group was conferred to NIC Kerala for successful planning, implementation and deployment of Integrated Financial Management System (IFMS) for the Government of Kerala on 14th February 2019. The IFMS Kerala has emerged as one of the best implementations in the country as an example of adoption of the India Enterprise Architecture Framework (IndEA) by way of solution architecture.
The award was presented by Mr. Steve Null, President & CEO, The Open Group and Shri J. Satyanarayana, IAS (Retd) to SIO Kerala Shri. T Mohana Dhas, DDG and to the IFMS team -Shri. Ajith Brahmanandan, STD, Shri. Asir Edwin M, STD, Shri. Nisarudeen A, STD and Shri. Pradeep Singh A G, PSA, in the presence of Shri. D.C. Misra, DDG, NIC HQ and Shri. Nagesh Shastri, DDG, NIC HQ.