National Award for the official website of Kottayam District, Kerala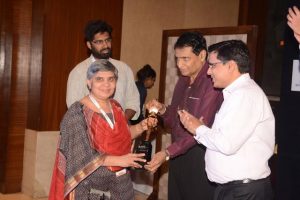 The Official Website of Kottayam District, Kerala received the Digital Transformation Award 2019, which is a National Award. Digital Transformation Awards appreciate and recognize the Projects and Initiatives taken by the Centre and State Government to make India Digitally empowered.
Kottayam District received the award under the "Website"category.
This is a bilingual website which is Secure, Scalable, Sugamya and Responsive. It is also compliant with GIGW (Guidelines for Indian Government Websites) and Robust Security Standards. It is built on Cutting edge open source technology stacks.
Smt. BeenaCirilPodipara, District Informatics Officer Kottayam, Kerala received the award from Sri. Suresh Prabhu, Hon'ble Member Rajya Sabha and Former Minister of Railways in Digital Transformation Award function held at New Delhi.