Inauguration of Fisheries Information Management System (FIMS) at NIC Kerala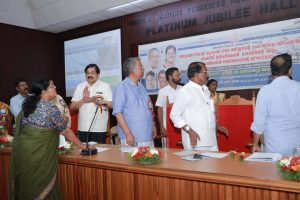 Smt. Mercykutty Amma J, Hon'ble Minister for Fisheries, Harbour Engineering and Cashew Industry, Government of Kerala inaugurated Fisheries Information Management System (FIMS) and published Online Fisher Folk family Register on 02nd August 2019 in a function held at Centre for Marine Fisheries Research Institute (CMFRI), Ernakulam in presence of Shri. S Sharma, Hon'ble Member of Legislative Assembly, Shri. S Venkatesapathy IAS, Director of Fisheries along with Smt. Twinkle George, Technical Director, NIC Kerala and Smt. Syama K, DIO Ernakulam.
FIMS is a Web enabled work flow-based system for building up of online fisher folk Family Register for the implementation & monitoring of welfare schemes/services and to transfer the benefit to the bank account of the beneficiary using DBT.
Fisher folk family Register is having Basic Details of fisher folk with Aadhaar, bank Account, Education Status, Occupation, Fishing Vessels owned by the fisher folk, Details of Family members, etc which are required for processing various schemes / services.
Main Feature: Unique Family Id, Aadhaar Authentication, Direct Benefit Transfer, Family Members Database, Welfare Schemes & Services , Saving Cum Relief Scheme (SCRS), Monthly Subscription, Relief Calculation, Relief Disbursement Process, Payment Status, etc.