Launch of 'Office Finder' Mobile App – 30 May 2023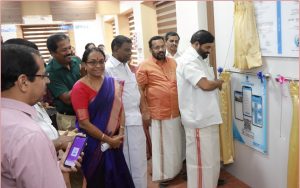 Shri. V. N. Vasavan, Hon'ble Minister for Co-operation and Registration, Government of Kerala launched the 'Office Finder' Mobile App on 30th May 2023 at Kottayam in the presence of Shri. K. Rajan, Hon'ble Minister for Revenue and Housing, Government of Kerala, Shri. Thiruvanchoor Radhakrishnan, Hon'ble MLA, Dr. P K Jayasree IAS, District Collector (Kottayam), Smt. Beena C P, Scientist F & DIO Kottayam, Shri. Roy Joseph, Scientist E & ADIO Kottayam and other staff members. Office Finder is a mobile app designed and developed by NIC Kottayam, Kerala for finding various offices located in an Office Complex like Civil Station Kottayam. The app is made available in the Google play store.
Though it supports various complexes to be included, only Civil Station Kottayam is made available now in the app.
View (631 KB)